| | |
| --- | --- |
| Michael Kirk has won a number of prestigious awards. We have a full range of our own Championship Sausages. We hand-make all our sausages using natural skin and quality pork. All the meat is prepared by hand to ensure that only the choicest pieces are used. There are more than a dozen varieties to choose from, to suit even the most discerning palates. Some of these are shown below. | |
Supreme Pork
65% meat content
Our Championship Winner, fine cut made in the traditional way using lean pork and spices. A sausage for all tastes.
Pork & Black pudding
65% meat content
A new recipe made with very low fat blackpudding. A unique combination, now very popular. A definite must try.
Pork & Herbs
65% meat content
Unique flavour of country garden herbs and succulent pork.
Pork, Mango & Ginger
65% meat content
Our very special exotic blend with a touch of the Caribbean. Be careful after eating this one! Featured on Central TV and WM Radio.
Pork & Tomato
65% meat content
One for the children and young at heart. A fine cut blended specially to appeal to young taste buds.
Pork & Chilli
65% meat content
A spicy little number, for the more adventurous.
Low Fat Pork
65% meat content
Our award winning recipe, without the calories!
Pork & Leek
65% meat content
Prize-winner packed with fresh leeks and pork, very nutritious and full of flavour.
Pork, Sage & Onion
65% meat content
A classic combination.
Cumberland
75% meat content
Thick cut. Originated in the north country, enjoyed by everyone, everywhere. A real family favourite. Popular at the breakfast table.
Lamb, Honey & Ginger
65% meat content
A touch of the far East mixed with traditional English.
Pork, Smokey Bacon & Tomato
65% meat content
One for smokey bacon lovers.
Pork, Honey & Grain Mustard
65% meat content
A Championship sausage with a unique combination of great flavours.
Beef Sausage
65% meat content
Made with prime quality beef and extra special spices.
If you would like to try any of our speciality sausages, please click here to place an order.



Award Winning Pork Pies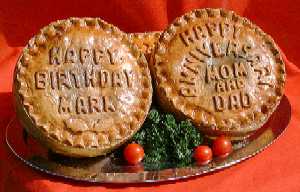 Our really famous Pork Pies are made with great care, baked fresh every day and come in vast range of sizes to suit all. Please see our Awards page to see how superb our Pork Pies really are! Sizes start at 4 oz and go up to 6lb.

We are renowned for our 'personalised' pork pies. Birthdays, anniversaries, any celebration! You supply your message and we'll do the rest (at no extra cost). A gift with a difference!

If you'd like to try our award winning Pork Pies, please click here to order.


Speciality Pies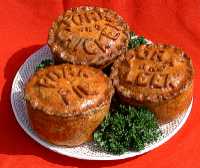 Like our Pork Pies, our Speciality Pies are baked fresh daily with great care and skill. Again, the sizes range from 4oz to 6lb. Some of our favourites are:
Pork & Leek
Pork, Sage & Onion
Pork & Chicken
Ploughman's (Red Leicester & Pickle)
We can prepare personalised speciality pies to order - simply tell us your chosen message when ordering and we'll add it (at no extra cost). For information on ordering our produce, please click here.
---